Presentation by Noel Matthews – G8GTZ
The first ever geo-stationary amateur radio satellite became operational in 2019.  At the Tuesday Open Evening on 14th January 2020 Noel Matthews (G8GTZ) explained why this is a significant achievement.  Anyone can use this satellite to listen to stations from Malaysia to Brazil and South Africa to Norway.  The talk covered ways to receive the satellite using equipment bought for less than £25.  As well as being secretary of the British Amateur Television Club Noel Matthews is an old friend of the Makerspace, he was active in the original meetings before we moved to our current premises.
The Qatar Oscar 100 satellite has the first ever amateur radio payload in a commercial geostationary satellite.  It provides two transponders dedicated to amateur radio, one for speech and one for digital signals such as video.  Most amateur satellites are in low Earth orbit, are only visible for short periods at a time and require careful tracking.  Because it is in a high orbit, at 36,000km, this satellite is always at the same position in the sky and has a coverage that includes 60% of the Earth's population.  As a Geostationary Satellite it provides permanent and reliable two-way radio and amateur Digital TV communications coverage for radio amateur license holders across that whole area.
Noel explained how to use a Sky dish, RTL dongle and PLL locked LNB to listen in.  Listening doesn't even require a licence.  Kits are available from BATC for the specialist tuner to enable reception of the Amateur Digital TV signals.  These cost approximately £85 including most key components and a smart case for it. Noel's talk also covered the details of the transmit side as well as how to handle the video signals.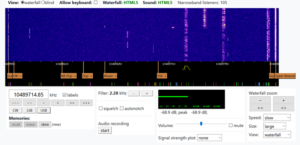 The web site https://eshail.batc.org.uk/nb/ has been set up to listen and display the current traffic on the narrowband transponder.  Here are the slides from Noel's talk.
This fascinating talk showed the amazing technologies that amateurs have been able to put in space. Oscar 100 is a fantastic opportunity for amateur experimentation and receivers are easy to implement!  The Makerspace currently has a project to set up a demo system