Pottery Demonstration – November 2019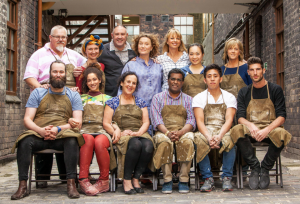 We had a great open Tuesday evening recently with a talk and demonstration of the basics of pottery making by a professional ceramic potter – Cáit Gould. who appeared on BBC2's Pottery Throwdown Competition. Her talk included, not only the basics of ordinary pottery, but also the more extreme forms of pottery kilns: such as Zhang Liming micro kilns that are fired using charcoal and hairdryers. You can see some images and find out a bit about him here: http://www.internationalceramicsfestival.org/portfolio/liming_zhang/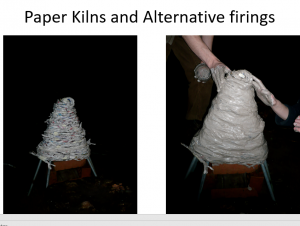 Cáit described making sculptural paper kilns designed by Terry Davies. Here is a link to his website: https://terrydavies.it/experimental-open-air-kilns-using-recycle-materials/
Pottery houses !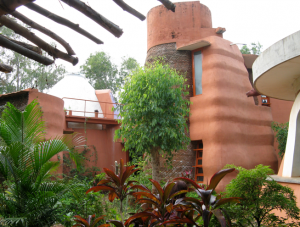 Indian house made from house sized pottery kiln was developed by Nader Khalili. He's had various books published,such as: https://www.calearth.org/shop/ceramic-houses-earth-architecture-how-to-build-your-own. There's also a bit on Wikipedia about it: https://en.m.wikipedia.org/wiki/Ceramic_houses
The pottery relay race was an exciting finish to the evening …
Cáit first demonstrated  the six stages of throwing a pot
As a novel completion to the evening she arranged a "Pottery Relay Race"
Two competing relay teams tried to complete the better pot with a different person doing each stage of the construction!
---
Get in touch for more information.
You may recognise Cáit from her time on BBC2's "Great Pottery Throw Down" which she said was an entertaining, educational, sometimes stressful, but thoroughly enjoyable experience. Cáit lives in Reading, UK, where she works from her spare room, making functional and decorative ceramic work. She is inspired by William Morris' belief that objects in one's home should be beautiful and useful, and strives to achieve this when potting. Her daily life, Quakerism and travels abroad have helped inform the shape her work takes, be it mugs, bowls, owls, clocks or more. Having graduated from the ceramics department at Glasgow School of Art and qualifying as a teacher, Cáit is now glad to bring both these experiences together, and teaches ceramic classes in the local area and the occasional school or community group.