Join us for an open Tuesday evening on 26th November 2019 when  we will have a talk on the basics of pottery making by a professional ceramic potter – Cáit Gould. She will demonstrate the basics of pot making and as a novel completion to the talk she will arrange a "Pottery Relay Race". Turning bowls on a potter's wheel has six basic stages – two teams (comprising of six volunteers per team) will each have clay plus a potter's wheel to produce the best team pot!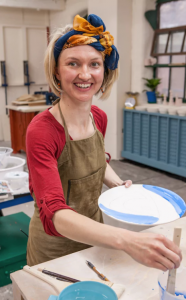 You may recognise Cáit from her time on BBC2's "Great Pottery Throw Down" which was an entertaining, educational, sometimes stressful, but thoroughly enjoyable experience. A true privilege to work alongside so many talented potters (and film crew) and help raise the profile of ceramics and creativity for future generations. 
Cáit lives in Reading, UK, where she works from her spare room, making functional and decorative ceramic work. She is inspired by William Morris' belief that objects in one's home should be beautiful and useful, and strives to achieve this when potting. Her daily life, Quakerism and travels abroad have helped inform the shape her work takes, be it mugs, bowls, owls, clocks or more.
​
Having graduated from the ceramics department at Glasgow School of Art and qualifying as a teacher, Cáit is now glad to bring both these experiences together, and teaches ceramic classes in the local area and the occasional school or community group. Get in touch for more information.